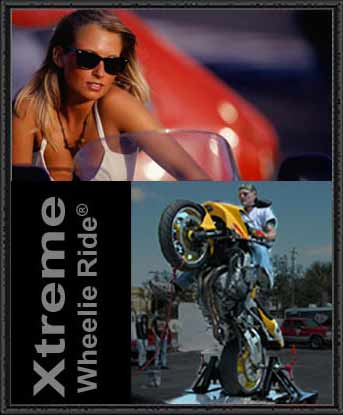 Wheelies are the granddaddy of all street freestyle stunts and they can be the simplest and the most complex trick in a professional stunt riders routine. While a standard sit down wheelie is almost elementary in execution, the fear of dropping your bike or hurting yourself normally keeps both wheels planted firmly on the ground.
Enter the world of Xtreme Wheelie Ride® and brace yourself for the ride of your life. This amazing machine is both a motorcycle simulator and a virtual reality experience in one kit. It allows the rider to perfect slow or high speed wheelies in a safe, controlled environment without damaging themselves or their bike.
Xtreme Wheelie puts safety first, teaching riders to control those unexpected wheelies improving rider control and confidence. If you want to learn to wheelie this is the safe way (for you and the bike) to do it!
If you have always longed for the thrill of the elusive wheelie or want to know how to control the unexpected wheelie - here is your chance.