XWR provides you the opportunity
to start up your own cash-flow business.
For more information please Contact us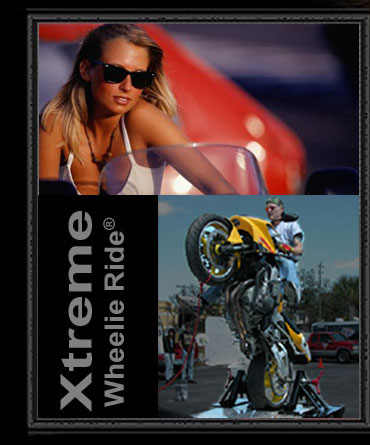 Welcome to the official website for
the Xtreme Wheelie Ride!®


As seen on the Speed Channel Two Wheel Tuesday!
World wide exposure guaranteed, when you become an operator/owner for the Xtreme Wheelie Ride®.
Full training support for your start up business.
VIEW NOW!
Click on "Locate Operator/Owner" above and view our WORLD-CLASS reviews from
Proud XWR Owners & See What They Are Saying.......

--SOLD--
DYNOJET WHEELIE MACHINE - 1st one in the world!
This is a lifetime opportunity - Own a piece of history
Pricing starts at $27,000 USD
Don't Miss Out on this Once in a Lifetime Opportunity to Own a Piece of History!

All Pricing Subject to Change due to Materials/Labor Cost Increases

**EXCITING NEWS**

BRAND NEW ARRIVALS - X11 Wheelie Machine
The new crossover wheelie machine is here and available (please inquire via email)
Also, be sure to check out the X13 Series Wheelie Machines - Very Affordable!

**ALERT**
To All Enthusiasts Out There Wanting to Purchase Their Very Own Wheelie Machines
Use This Experience To Your Advantage and Take These Words Very Seriously......
XTREME WHEELIE RIDE is the FIRST & ORIGINAL in the ENTIRE WORLD - XWR is also the ONLY One Holding the PATENT on this Fabulous Machine!
Do Not Take the HUGE Risk On Counterfeit/Copycat Machines & Don't Let This Happen To You.....
(Email from a very now desperate & disappointed buyer of a counterfeit machine):
"I bought this wheelie machine 4 months ago from another company, their design was electromagnetic brake system; unfortunately this machine is broken down due to brake system & I'm totally out of commission. I wish I'd bought from XWR, the world-renowned machine. I regret this & desperately need help, please".